Back by popular demand, and what will likely be the third and final piece of the "Where's the Beef?" series, we take a look at the Colts' offensive line. Previously, we had covered the team's defensive line and linebacking corps (Where's the Beef? D-Line and Linebacker Editions).
There's a running theory in sports, especially as it relates to professional football, that "bigger is better". You'll watch football games on national sports networks and hear commentators applaud how big a player is and how that size and assumed strength directly leads to manhandling opponents at the line of scrimmage, whether it's an offensive or defensive player being lauded. However, for the purposes of this analysis, we will look solely at offensive linemen, having previously covered the defensive line in our series.
Looking back to the "Peyton Manning Era" of Colts' football, the team was often criticized for its inability to sustain a consistent running game because they had seemingly small and diminutive offensive linemen. Former Colts' GM Bill Polian's supposed strategy was that smaller, quicker offensive linemen were better able to move laterally, which led to superior pass protection. In theory, these smaller offensive linemen were better able to slide their feet and keep pass rushers in front of them. While they couldn't "move the pile", in turn, pass rushers couldn't equally "move past them".
As protecting and keeping #18 upright was the top priority, this simply made sense for the team strategically, as it featured a prolific passing attack for a number of years. Unfortunately, this conversely hurt the Colts in their run blocking, as the team allegedly lacked bigger offensive lineman who were road graders and could maul, i.e. "push the pile". Basically, think of it as having offensive linemen, who could move better horizontally rather than vertically in space.
Yet, do the numbers demonstrate that there is any direct correlation between having a heavier offensive line and better blocking prowess, specifically as it relates to the running game? Are the Colts at an efficient weight in order to sustain a consistent and effective running attack for 2014?
For this analysis, since offensive lines are subject to such significant fluctuation on a season-to-season basis, we first calculated the total weight of each NFL team's offensive line based on their starters in 2013, as well as the subsequent average of each unit's individual lineman. By using the prior year's weight numbers, we could directly tie these to performance.
Second, we added each team's offensive ranking as a result of its 2013 points per game, a universally accepted measurement tool.
Lastly, we aligned each offensive line with both its run and pass blocking ranking according to ProFootballFocus's (PFF) advanced statistics. This was determined to be the most accurate means to depict a team's respective run and pass blocking ability, as it measures purely the blocking aspect of an offensive line.
Initially, rushing yards per game was proposed, but it was deemed too misleading as an extremely run oriented team (i.e. the New York Jets) may simply have had an exorbitant amount of rushing yards simply because of its excess of rushing attempts compared to other teams.
Likewise, yards per carry was eliminated because some teams may have the unfair advantage of having a superior rushing talent, who may get more yards because of natural ability, rather than superior run blocking, compared to the average running back (i.e. the Minnesota Vikings and RB Adrian Peterson). By looking at purely the blocking of an offensive line in its simplest form, other fluctuating variables have been seemingly eliminated.
Consequently, with all of the above, we've provided our calculated weight table, which is included below for your reference: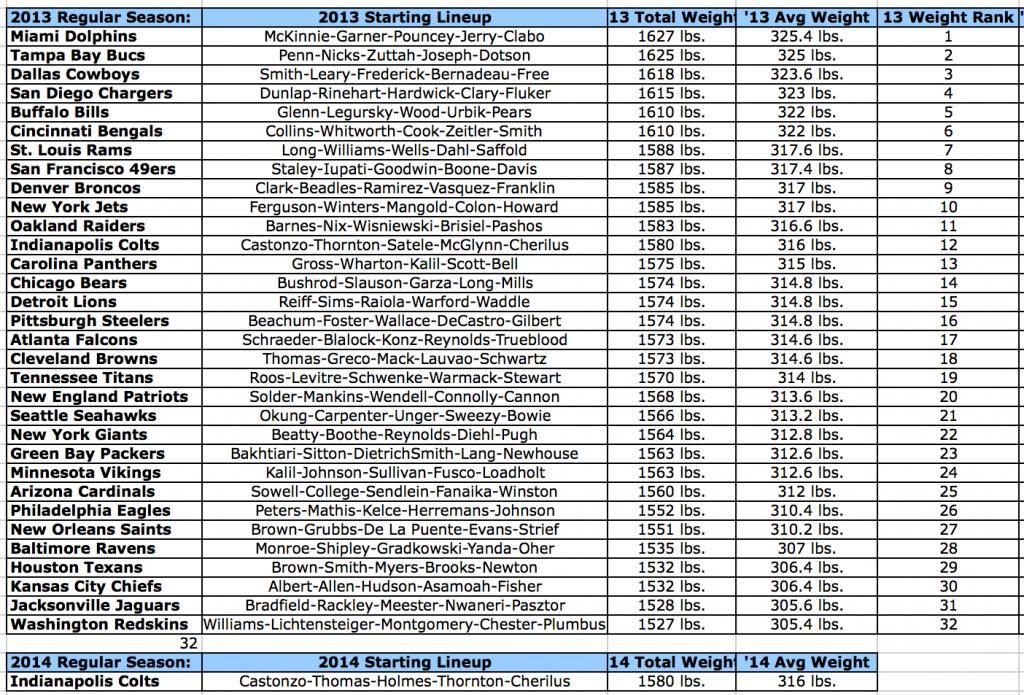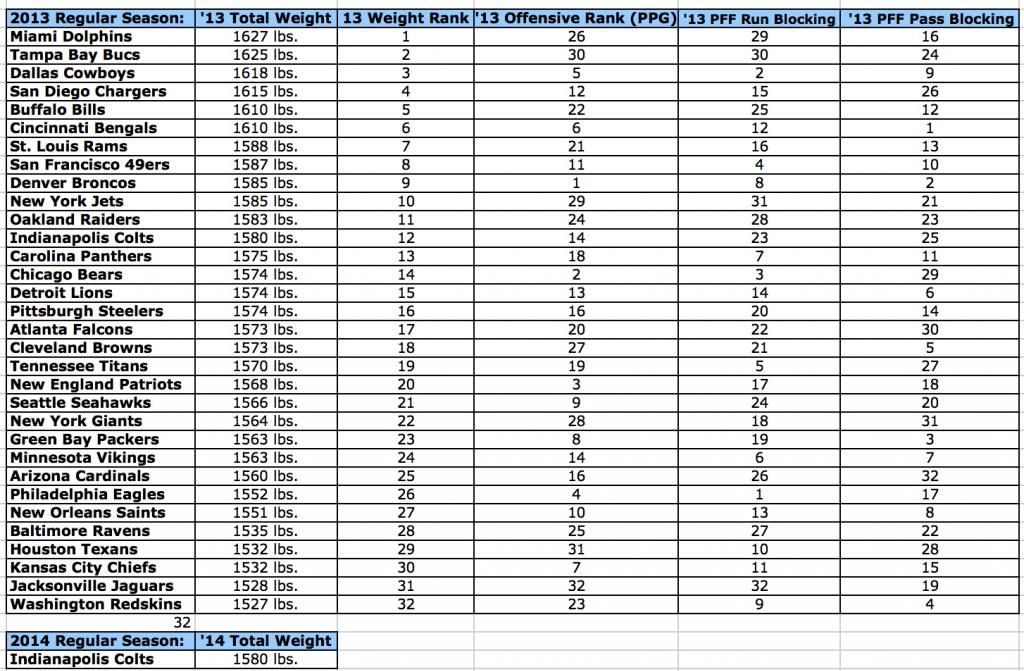 My initial impression is that the widely believed theme of "bigger is better" is seemingly bogus, specifically as it relates to running the football. While it seems logical that having bigger offensive linemen would presumably mean more push and wider running holes in the trenches, the numbers simply don't directly support this claim. In fact, at most, they seem to contradict it. The two heaviest offensive lines in 2013, the Miami Dolphins and Tampa Bay Buccaneers, were rated 29th and 30th through PFF's advanced statistical run blocking rankings. While the 2013 Dallas Cowboys' offensive line sheds a small beam of positive light on the "bigger is better" notion, weighing the 3rd heaviest and coming in as the league's second best rushing offensive line in 2013 (PFF), the rest of the results are largely muddled and inconclusive.
Digging into the numbers even further, one sees that the league's best run blocking line (PFF), the Philadelphia Eagles, were the 26th lightest, disproving any notion that being heavier directly coincides with more efficient run blocking. Blocking may be just as much about leverage, technique, and bending the knees, as much as it is sheer mass.
What do the numbers show about the Colts? Well for one, oddly enough, the projected 2014 starting lineup of the Colts is expected to be roughly the same weight as the 2013 Colts, even though it's a different mix of players. In 2014, OG Donald Thomas and C Khaled Holmes are expected to hold the spots that were previously occupied by departed offensive linemen, OG Mike McGlynn and C Samson Satele. Thus, the Colts will likely be right around where they were in 2013, when they ranked 12th in overall weight.
Regardless, the numbers indicate that this weight likely won't have a real bearing either way. As a result, the Colts' success and needed improvement from last season, where they ranked a sub-par 23rd overall (PFF), will likely come from the group's improved ability, rather than how much more they can tip the scales from added weight. Rather, they'll need OG Donald Thomas to regain his prior form and stay healthy, and they'll need improved and consistent play from their second-year pros like C Khaled Holmes and OG Hugh Thornton. Perhaps, rookie second round pick, OG/C Jack Mewhort, may also even factor into the equation in time. This 5-man unit has the opportunity to be improved based on paper, but there certainly are a fair number of question marks looking forward to next season.